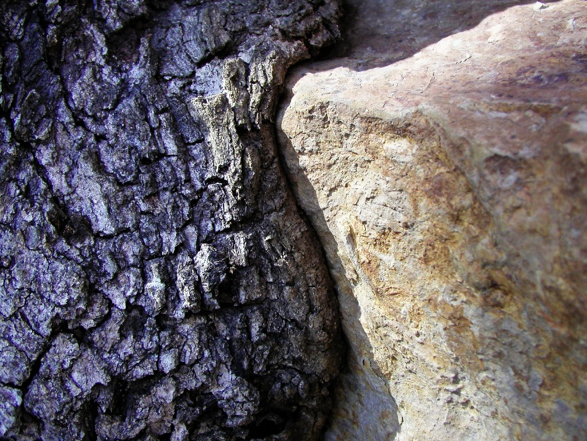 Between A Rock and A Hard Place
Like many other progressively-minded folks, I am in still in shock over what happened last night, and likely will be for some time. I have an image burned into my memory of a team of seasoned journalists finally conceding to what the voting results meant, sitting around the table in stunned silence, staring at their hands. Fifteen seconds of dead air said it all. And now those same pundits are attempting to explain away the errors in their predictions, pointing to a much deeper and larger pool of angry white folks than anyone imagined as a primary factor for Trump's victory. So I wanted to speak to that group, along with my more like-minded progressive friends, in exploring exactly what this election means for the United States of America.
The real tragedy in this election will not be the thousands of young women who, once
Roe v. Wade
is overturned, are either forced to obtain illegal abortions, or to live in poverty without support as they struggle to raise an unwanted child. The real tragedy also won't be the millions of Americans who lose their health insurance, are unable to obtain adequate coverage for chronic conditions, or can't afford healthcare once the Affordable Care Act is repealed. It also won't be the immigrants whose families are ripped apart by accelerated deportations, or the millions of businesses – including the farming backbone of America's food supply – that close down because they can't find workers for entry level jobs at subsistence wages. And it won't be a runaway train of "Trump effect" bullying against the LGBT community, people of color, nerds, disabled folks, social outcasts and the other traditional objects of fear and hatred by ignorant white people. The real tragedy will also not be those billions among our next generations who, because of the U.S. abandoning global climate agreements and strategies, will have to navigate a chaotic weather, rising sea levels and an explosion of tropical diseases. All of these may be predictable outcomes of a Republican majority under Trump's leadership, and they might be very unpleasant for Americans to suffer through, but they are not the most extreme travesty now in the works.
What is really the most tragic and distressing consequence of this election actually pertains to all those angry white folks who voted for Trump. Why? Because he promised he could help them. But here's the rub regarding that, folks:
Trump can't help you.
The demographics of the U.S. are still going to shift to a white minority population, even if all immigration were to be cut off. All those people of color who are U.S. citizens are still going to have families, and the population trends will remain basically the same. Good jobs are still not going to be available to U.S. workers, because no industry can afford to pay U.S. workers a decent wage and still produce a profit for goods sold either in the U.S. or on the global market – it has been true for some time that U.S. companies depend on cheap labor and resources sourced outside of the U.S. to maintain the growth and affordability of their products. This is one reason real wages have been in decline for many decades. In fact, you could say that the economic isolationism championed by Trump is about the most effective way to destroy any chance of jobs or a living wage in the U.S. And because Trump's tax policies will focus on benefiting the most wealthy Americans, and will do absolutely nothing beneficial for the middle and lower classes (possibly even raising taxes on those groups - see
Batchelder
), this whole combination of tactics is almost guaranteed to make the plight of most white, middle class, blue collar Americans already struggling to make ends meet
a hell-of-a-lot worse
. Trump's strategies will also burden Americans with increasing amounts of debt, as we must of necessity plunge further and further down the rabbit hole of financialization. A ballooning national deficit will merely be the tip of this spear.
In terms of international relations, jihadi terrorism, friendliness with Russia and so forth, the prospects for improvement are equally dire. But of course the U.S. isn't the only player on the world stage, so who knows: maybe these issues will resolve themselves despite any poor choices we make in terms of U.S. trade or foreign policy. But my main point – and the one that I hope will evoke some empathy and compassion for angry white America from my progressive friends – is that all those folks who voted for Trump are now truly and resoundingly fucked. Because of their blindness and resentment regarding the inexorable realities of the modern world, they have chosen a government that will make things much, much worse for themselves over the short and long term. Americans voting against their own best interests has happened before – most recently with the eight years of a Cheney-Rumsfeld-Wolfowitz debacle – but this hard lesson hasn't yet been fully learned by the American electorate. Perhaps it never will be. Perhaps we humans are just prone to making irrational choices when we are fearful and distressed, and the consistent Republican investment in amplifying such fear and distress in order to win elections is now reaping its just rewards.
But, for our dear angry white Americans: remember those "elite" you have blamed for taking away your liberties, eroding Christian values, creating terrorism, ruining the U.S. economy and threatening your way of life…? Well, you just elected more of them into office. Gingrich, Juliani, Trump, Pence and their ilk are not your champions or your friends, they are a potent team of self-obsessed, arrogant, power-hungry sociopaths who will take America deep out into the woods, bend her over a log of lies and delusion, and violently ravish her – economically, politically, socially and spiritually – very much against her will. All the while they can of course invoke Randian, Libertarian or neoliberal propaganda that rationalizes such actions as "American exceptionalism," further empowering corporate oligarchy at the expense of U.S. citizens. But you will likely be too busy trying to survive to fully appreciate how you have been duped. This is what you've done…to yourselves. And so this is why I sincerely feel progressives should go beyond patience, beyond endurance and tolerance, beyond kindness and sympathy, and reach out to console and, yes, help Trump voters as best they can in the coming months and years. Those who understand what the outcome of this election really means must overcome our disappointment and grief, and arm ourselves with
agape
. Because when the Trump Administration is done raping and pillaging its very own supporters, those fellow Americans will not just feel doubly betrayed and doubly hurt, they will feel cold and alone in those haunting woods, with copious amounts of patriotic blood streaming endlessly from their…wherevers. And they will need our help.
So to explore longer term and more realistic solutions to our current dilemma – as well as what activism we can engage in to move us toward those solutions – I would encourage folks to visit my latest website:
http://www.level-7.org
, and in particular the
Action Guide
. What we are now facing may indeed be a chaotic transition of sorts (take a look at my friend David MacLeod's thoughts on this topic at his
Integral Permaculture blog
), but if we can shift our focus away from damage control to a new, truly workable vision for tomorrow, we just might emerge from the next few years with a chance of healing and hope. This is our collective responsibility. We can no longer be passive consumers of domestic politics, trusting the advertising claims of the product we are being sold during the election season, then disengaging from civic responsibility the rest of the time. To fuel our optimism, we also know that left-leaning folks are the real majority in the U.S. - it's just that half of us didn't vote in this election. So we all need to be more conscious, informed and proactive purveyors of our democracy
persistently and perpetually
. Together, we must fully understand what is happening in our country and around the world, and make thoughtful decisions about how to proceed. And if we can care enough about each other to recognize the real pain we all share – and how to remedy the conditions that caused it through our own cooperative efforts – then our vision for a more harmonious and mutually supportive future could actually become real.
My 2 cents.
Trackbacks
Trackback specific URI for this entry
This link is not meant to be clicked. It contains the trackback URI for this entry. You can use this URI to send ping- & trackbacks from your own blog to this entry. To copy the link, right click and select "Copy Shortcut" in Internet Explorer or "Copy Link Location" in Mozilla.
No Trackbacks
The author does not allow comments to this entry