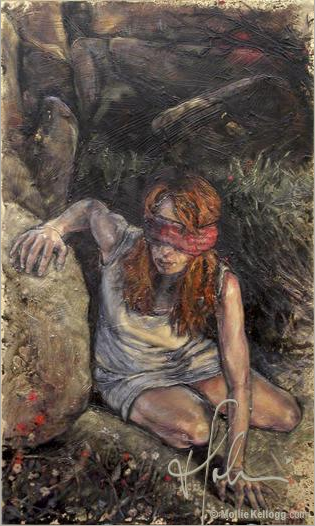 Dark Desert
First some definitions….
From the Wikipedia article (
https://en.wikipedia.org/wiki/Parental_alienation
):
"Parental alienation is the process, and the result, of the psychological manipulation of a child into showing unwarranted fear, disrespect or hostility towards a parent and/or other family members.[1][2] It is a distinctive and widespread form of psychological abuse and family violence —towards both the child and the rejected family members—that occurs almost exclusively in association with family separation or divorce…"
From a
Psychology Today
series (
https://www.psychologytoday.com/blog/co-parenting-after-divorce/201304/the-impact-parental-alienation-children
):
"Parental alienation involves a set of strategies, including bad-mouthing the other parent, limiting contact with that parent, erasing the other parent from the life and mind of the child (forbidding discussion and pictures of the other parent), forcing the child to reject the other parent, creating the impression that the other parent is dangerous, forcing the child to choose between the parents by means of threats of withdrawal of affection, and belittling and limiting contact with the extended family of the targeted parent….There is now scholarly consensus that severe alienation is abusive to children…and it is a largely overlooked form of child abuse."
From the Parental Alienation Awareness Organization (
PAAO - http://www.paawareness.org/
):
"Parental alienation (or Hostile Aggressive Parenting) is a group of behaviors that are damaging to children's mental and emotional well-being, and can interfere with a relationship of a child and either parent. These behaviors most often accompany high conflict marriages, separation or divorce…These behaviors whether verbal or non-verbal, cause a child to be mentally manipulated or bullied into believing a loving parent is the cause of all their problems, and/or the enemy, to be feared, hated, disrespected and/or avoided."
It might seem as though most parents who attempt to alienate their children from an ex-partner know what they are doing: they are trying to sabotage their children's relationship with the other parent. However, this may not be the case. What is their underlying motivation? Is it an inability to forgive perceived wrongs? A stubborn drive for vengeance? An irrational fear that they will lose their children to the other parent's affections or perspective if they don't actively alienate that parent? A realization that their own inadequacies may become more apparent if they don't fix as much blame as possible on their ex? Some loss of sanity to a delusional alternate reality where they actually believe the other parent is perpetrating horrible things on their children? A projection of one's own fears and childhood abuses onto the other parent? An underlying personality disorder that is triggered by the stress of separation or divorce? Some combination of many or all of these factors? And, perhaps most crucially, even if they are aware of these motivations,
are they able to consciously manage their response?
These have been some of the questions my wife Mollie and I have asked ourselves on a weekly – and sometimes daily – basis over the past twelve years regarding her son and daughter. Although her ex had a history of ongoing physical, emotional and psychological abuse toward family members in the years preceding their divorce, the divorce itself seemed to throw him into a crazed spiral of controlling, acutely abusive and alienating behavior that created tremendous additional stress for everyone involved. Mainly we have wanted to understand his motivations so that we could respond in the best way to protect the children and deescalate the drama. What was the wisest course of action? Our eventual conclusion – after much counseling, research, meeting with attorneys, etc. – was that we would actively avoid "counter-alienation" behavior, keep communication pathways open with her ex to facilitate the healthiest, most cooperative decisions possible for the kids, and allow her daughter and son come to conclusions about their father on their own. Whether this was actually the wisest course is still a difficult question – and we'll revisit that later on in this article.
Thankfully, in the last few years, both children have begun to realize that most of the fear-inducing narrative their father had invented around my wife and me was not true, and they have distanced themselves to varying degrees – either from their father, or from his delusional machinations, or both. But of course offering the space and time for each child to come to this conclusion independently was not an easy decision for us to make…and we are still second guessing it even today. After all, the alienation persisted for nearly a decade…couldn't we have done something more to protect the kids? Adding to this doubt, both children have expressed the sentiment at one time or another that
they felt abandoned by their mother
because they were subjected to their father's delusions, control and abuse seemingly without any intervention or help. And seeing their pain around these feelings of helplessness and abandonment just adds to our own distress and doubt. So is there anything we could have done differently…?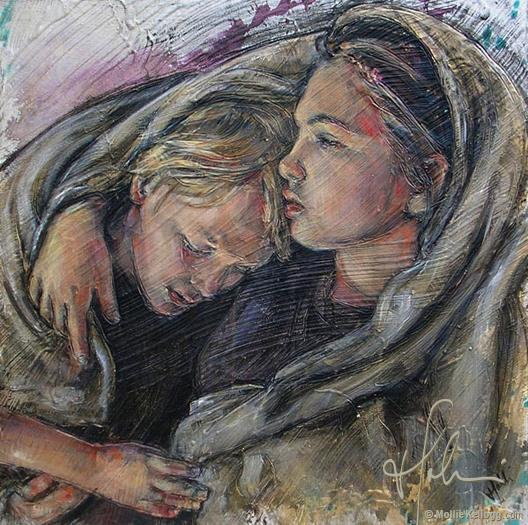 Faith
Our first encounter with the concept of "parental alienation" occurred during consultations with an attorney. The attorney quickly identified the symptoms and shared some resources about it, including a book written by his partner in that law practice. One of the first things those resources pointed out was a correlation between Borderline Personality Disorder and parental alienation, and frankly all of the alienation behavior before and after the divorce fit that diagnosis like a glove. But again, what could be done? It was the attorney's recommendation that Mollie pursue full custody by showing the court evidence of her ex's bizarre antics, and the harm this was doing to both children. Of course, in order to arrive at this point, the attorney had already used up all of his $2,500 retainer, and we found ourselves out of funds. Mollie was working part time, I had been writing a book (
The Vital Mystic
) full-time for the past year, and for the kids' sake we of course were not planning on moving in together anytime soon. In addition, we were already accruing significant debt to provide resources the kids needed (family therapy, a family vehicle, a safe neighborhood and living environment, etc.). Over the next few years, all of these efforts to support the kids while navigating the ex's extreme alienation tactics would lead both of us into severe financial hardship. So despite our best efforts, we simply did not have the resources to move the full-custody option forward.
But what, you might wonder, constitutes bizarre and destructive parental alienation behavior? I think it's important to provide a few illustrations of the kinds of things this ex was doing throughout the divorce and for years afterward. Most of this could be categorized as "amplifying his own victimhood and all the wrongs he believed the children should know about," which Mollie and I had somehow facilitated. Here are some examples; keep in mind that the children were ages
eight
and
eleven
when all of this began:
1. Whenever the children were with their mother, her ex would call them several times each day to interrogate them about what they were doing, where they were, who they were with, and what their mother was up to – all in an attempt to manage or correct any situation he didn't like. The conversations were intense, caused both children a lot of stress, and frequently lasted over an hour. Whenever he couldn't reach the kids by phone, the ex would fly into a manic rage, escalating his threats with Mollie until he got his way.
2. Despite seldom involving himself in the children's education previously, the ex insisted on becoming the sole parental contact at their school, attending all parent-teacher meetings alone, making sure that he was the only emergency contact, and making it very difficult for their mother to assert she had 50/50 custody as per their agreement.
3. Despite previous years of harsh, authoritarian parenting that included corporeal punishment, the divorce transformed the ex into a "Disney Dad" who was now excessively indulgent with both kids, ignoring any discipline or agreed-upon accountability around their diet, school, behavior, medical treatments or any concerns that he would have inflexibly mandated and controlled prior to the divorce.
4. In what was probably one of the most harmful and inappropriate decisions, the ex spent hours sobbing in front of the children, repeating a story that he was "all alone now" and that they were "all he had," that he couldn't bear the thought of being without them, and that any betrayal would kill him. This ongoing grief and drama encouraged each child to feel guilty about any time spent away from their father, and resulted in Mollie's daughter sleeping in the living room with her father (on a separate couch) nightly. It also increased the stress and drama around any enjoyment they experienced without their father, making them feel like this was somehow a betrayal.
5. The ex also aggressively played the children against each other, encouraging them to tattle on one another if either one didn't comply with his expectations. As punishment, if one of the children didn't report something they had done with their mother – or something they had done with me – that child would receive a cold shoulder for days or weeks afterward. This withdrawal of affection (and sometimes all interaction and eye-contact) was so frightening that both children began to make up stories to please their father's preconceptions. And they would never, ever admit (even to each other) that they were enjoying themselves when they spent time at their mom's.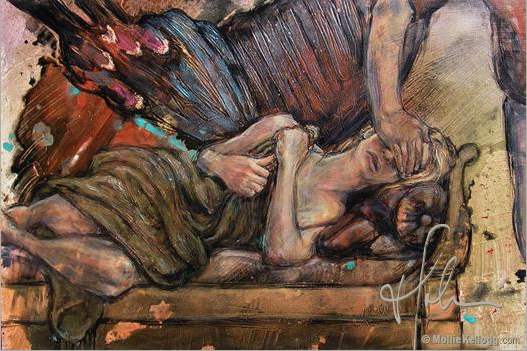 Butterfly Woman Diaries I - Liar
6. The alienation narrative that the ex fabricated around both Mollie and me was heartbreaking and horrifying, but he repeated elements of it almost daily directly to the children or while talking in front of them – as well as sharing it with others in the children's lives that he hoped to influence or control. Some examples of these fabrications, along with their consequences:
a. A story that, before the divorce, their mother had been sneaking out at night, climbing over the fence to have sex with me. This dovetailed neatly with the delusion that the family had moved from Seattle to San Diego just so Mollie could be with me. These ideas encouraged disrespect and judgment from both children towards their mother and hostility towards me. Often this resulted in simple disobedience, but sometimes it escalated into physical violence towards one or both of us.

b. That I had changed my name when I moved to San Diego because I was a mass-murderer and was hiding from the law. This led to Mollie's daughter sleeping with a cordless phone and 9-inch kitchen knife under her pillow, and being terrified of spending time alone with me at first. Mollie's son would routinely find reasons to throw objects at my head or lash out physically until I could distract him with jokes or a game.

c. That both children "should be deathly afraid" of me as a matter of course. This resulted in both children expressing fear towards me whenever they thought their father would be aware of our interaction. On one occasion Mollie's daughter hid from us when we visited a school performance and the staff asked us to leave; on another, the children were encouraged to share their fears with CPS, with whom their father had initiated a complaint. CPS concluded that the father's concerns were "unfounded," but the damage was done. Mollie's therapist indicated that until the ex accepted me, the children would always have to be proving their loyalty to him, and that we should limit my contact with the kids to lessen the strain on them.
7. The ex also coached both children on how to ignore or disrespect their mother's parenting in various ways: they didn't need to follow through with anything their mother asked them to do, could pretend to be asleep when she called to wish them goodnight, should challenge or devalue anything their mother said or did for their benefit, should reject and refuse anything their mother claimed to be "healthy" (food, exercise, sleeping habits, therapy, etc.), and could lie to her about anything that happened at their father's house. At the same time, the ex demanded complete honesty, loyalty and conformance from them regarding his distorted expectations and agenda.
8. As a final layer of frosting on the alienation-cake, the ex would rapidly escalate his threats any time he felt his demands or preferences were not being respected. He would angrily say he would call CPS, or come over to the house, or physically harm me, or "take the kids to Mexico." As Mollie's daughter once repeated while on the phone with her father: "Daddy says he doesn't care if he has to go to jail, but he's going to come over here...." It was almost impossible to placate this man unless we did exactly what he demanded (or at least agreed to do so), and we certainly didn't want the kids to be traumatized by louder and more violent drama.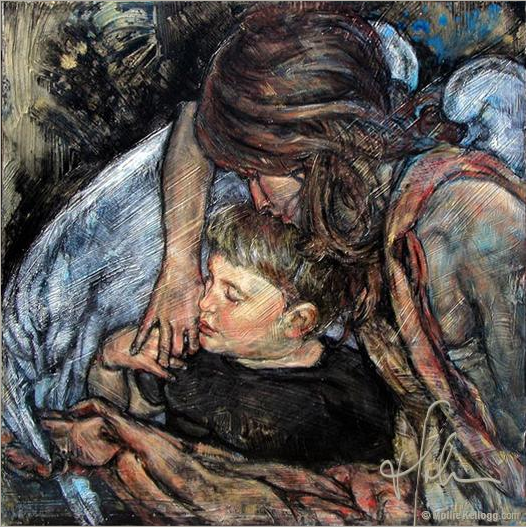 Sleep With The Angels
Of course, when either child was removed from a situation where they thought their father would be watching, listening or somehow find out what was transpiring, they would instantly become much more relaxed. Their natural sense of humor and playfulness would take over, and there would be hours of laughter and fun. But in the early days this was so rare – for both their mother and for me – that it often brought tears of relief whenever it happened. On one occasion, when we all went camping and were out of cell phone coverage, the kids finally seemed to completely relax and really be themselves for the first time – and it lasted a full weekend! But of course their father redoubled his alienation efforts after that (the following week was when the school counselor called CPS…).
Currently, both kids have worked out a lot of what was really going on, and they now have a much better relationship with their mother, and with me. But again…so much damage was done, with so much stress and pain, that both children have suffered permanent emotional and psychological harm; wasn't their some other approach we could have taken that would have been healthier for them? And, indeed, healthier for us too…? Looking back, with full custody seeming increasingly difficult, the fallback was for us to attempt what most therapists warn will not change the alienation dynamics:
• Waiting
for the alienator to calm down, become distracted or have a change of heart.
• Reasoning or bargaining
with the alienator.
• Encouraging
the alienator to get therapy or help.
• Appeasing
the alienator by complying with their demands or making them feel as important as they seem to crave.
• Formal mediation
with the alienator or other attempts at
negotiation
.
And those therapists are absolutely right:
for over a decade, none of these approaches worked, because this alienator seemed compelled to fixate on their own power in the situation, circumventing all attempts to moderate their behavior, even if it sacrificed the well-being of their children.
All an alienator will do (and what the ex did) is keep trying to control the situation, keep breaking agreements, keeping cajoling, intimidating or persuading people to accept the alienator's delusion, and keep the drum-beat of the alienation narrative going indefinitely (or at least until the children capitulate and agree to reject having a close relationship with the targets of alienation). So...what more can be done? It took us a while to figure all of this out, but probably the best advice and discoveries we encountered along this journey were the following nuggets:
1. Don't let the alienator's antics becomes a smokescreen for issues in your own relationships.
That is, don't make all potential drama and upset be about the ex; instead, put the ex in their place. Sure, they are creating a lot of pain, but as much as they would like to be, they aren't really part of all these other relationships. Mollie and my relationship is separate. Her relationship with her kids is separate. My relationship with her kids is separate. And the more we can operate that way – the more the alienator is forced to be external rather than an internal part of relationship dynamics – the more those relationships can heal and gain their own footing.
2. Encourage the children to see you as your own person.
In the same way, divorcing the children's conceptions of their mother and me from their father's programming involved relentless positive interaction and distraction from the alienation narrative. Yes, the ex repeatedly tried to sabotage those interactions, but we would just keep on keepin' on: keep loving, caring, listening, supporting and parenting in positive ways. Eventually, even before the kids began individuating from their father's influence, the contrast between their father's version of reality and the reality they saw and felt with us became too great for them to ignore.
In this sense, cognitive dissonance is our friend.
3. Find the help everyone needs and participate in the healing process.
For both of the kids, therapy became a critical part of an ongoing reintegration and healing process. This wasn't about the children needing to be "fixed," this was about exploring what they were feeling and struggling with
in the moment
(and things that happened in their childhood, when possible) in a safe environment, with Mollie and I fully willing to engage therapeutic dialog with the kids – when the kids were ready for it. It also meant that Mollie and I sought support for our relationship, both in the midst of the alienation and then later as well, when we were trying to understand how best to support the kids' healing process.
4. Focus all energies on your own parenting and relationship – rather than the alienator.
This is really just an amplification of the previous three points, but it really drives them home:
the alienator's absence from all relationship dynamics is a powerful current in the healing process.
This means that emotional and physical boundaries remain firm; that children are parented as if the alienator isn't involved and can't control the situation; that decisions are made without fear of the alienator's threats or reprisals; that there is accountability (via law enforcement, if necessary) for the alienator's extreme actions; that the relationship children have with the alienator doesn't have to be protected, supported or compensated for; that fear of the alienator and/or sympathy for them is no longer a part of the decision matrix; that the well-being of one's children is not dependent on placating the irrational whims of the alienator.
5. Keep giving, loving and caring – keep demonstrating affection to an alienated child – even if it doesn't seem appreciated or acknowledged.
This is really the torch Mollie recognized and carried, because she never gave up or stopped trying to reach out to her kids. Yes, she often was forced to give her children space, but she never let go of the possibility of having a healthy, loving relationship with them. So no matter how badly they behaved, no matter how nastily they treated her, no matter what accusations they made or what part of their father's alienation narrative they amplified…
she always created a comfortable living environment for them, always remembered their birthdays, always took them to celebrate select holidays at a swanky hotel, always had a family photo taken at Christmas, always rushed to their aid whenever they were in distress, and was always there with open arms, ready to welcome them home.
In fact, Mollie always insisted on inserting herself into the children's lives and upholding the 50/50 custody agreement, no matter how difficult that was, or how unwilling or obstructive other parties might be.
6. Live your life as fully as possible.
I think this one gets lost in the jumble of the pain, loss and grief of alienation. Alienation really hurts, and it can seem like all the joy and peace is being stolen out of our lives. But of course there is joy, and adventure, and tranquility, and accomplishment, and goals, hopes, dreams, and of course
love.
And that fullness of life needs to be embraced and celebrated. To be healthy and whole, to experience all the richness and discovery of each day – these are not optional, but the point of being. And if there is anything that can inspire those we care about to appreciate what we offer them, it is the example of our day-to-day living. In my Integral Lifework practice, one verse of my daily mantra goes like this: "Just for today, remembering the well-being of others, and nourishing them through being whole."
All of these choices take courage, love, discipline, patience, endurance and resilience. I think perhaps our biggest regret is not realizing many of these things sooner and acting accordingly. But this approach really seems to be the only possible path to healing and wholeness when dealing with parental alienation. That is, unless you have the copious resources required to choose a course to gaining full custody, with supervised visitations. I think, increasingly, the courts are beginning to recognize that parental alienation exists and does tremendous harm, but there still doesn't seem to be much incentive to remedy it in that environment. However, it certainly doesn't hurt to educate them about this issue and advocate on a child's behalf. For Mollie, the pain and grief over the years of motherhood she lost to alienation is still fresh, and still difficult to bear. Part of her own healing process has been to express that pain and grief through art, which she has done through many of her paintings shown in this article and at
http://www.molliekellogg.com
. Her film
"A Lonely Heart in the Crowd"
also addresses the issue head-on (enter "you-are-magick" if prompted for password):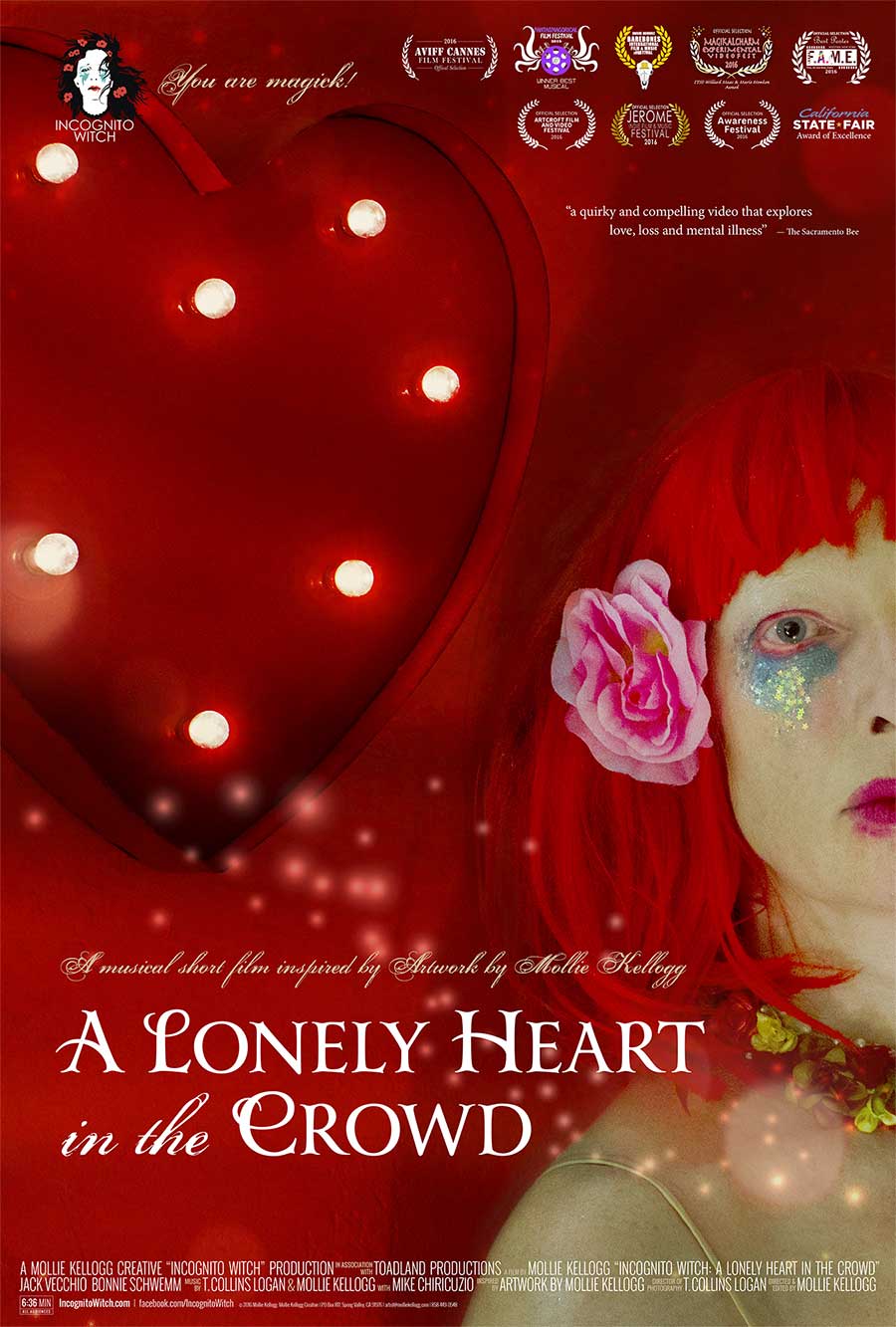 The question remains: why is it so common that alienators are unable to change their tune or relax the alienation narrative and strategies over years or decades? This brings us full circle to our initial question of motivation. As one take, when we look at how Borderline Personality Disorder develops and presents itself, we may have a window into the inner workings of parental alienation. The Borderline will disconnect from reality, maintain persistent delusions, be strongly motivated by fear of abandonment, exhibit manipulative behaviors which are – for the Borderline – a desperately earnest tool for survival, react with disproportionate rage or despondence when they believe they are not being heard or loved, and generally operate from overwhelming emotional convictions rather than a reasoned or measured perspective. In other words, a Borderline cannot consistently be reasoned with, finds physical or emotional boundaries extremely threatening, will take extraordinary measures to prevent abandonment or rejection, and tends to resist any and all treatment. Essentially, they are primed to become a parental alienator.
I am a firm believer in the genotype/phenotype analogy for most mental illness. A genetic predisposition may be present, but it takes a unique combination of environmental factors to activate those genes – and, once activated, the trait expression is very difficult to suppress or manage. In the case of Borderline Personality Disorder, there is growing evidence that there are strong hereditary physiological factors as well as predictable environmental ones. For example, a Borderline's myelination of the prefrontal cortex may be significantly reduced or delayed – this is as an inherited condition, and perhaps exacerbated by incompatible environments during development. In this case, going back a generation, we find the alienator's own mother – claiming she was afraid her son would be taken from her – kept the alienator from any contact with his father's family. Classic alienation behavior in itself.
So, in this instance, was parental alienation genetically inherited? Was it an observed behavior that was simply repeated? Is it evidence of an underlying mental illness? We just don't know, in large part because the alienator has yet to take responsibility for his dysfunction and seek help. What is clear is that – just like someone with Borderline Personality Disorder – this alienator still feels tremendous pain and loss around events they could not control, but which were in large part conditions of their own creation.
My 2 cents.
Trackbacks
Trackback specific URI for this entry
This link is not meant to be clicked. It contains the trackback URI for this entry. You can use this URI to send ping- & trackbacks from your own blog to this entry. To copy the link, right click and select "Copy Shortcut" in Internet Explorer or "Copy Link Location" in Mozilla.
No Trackbacks
The author does not allow comments to this entry